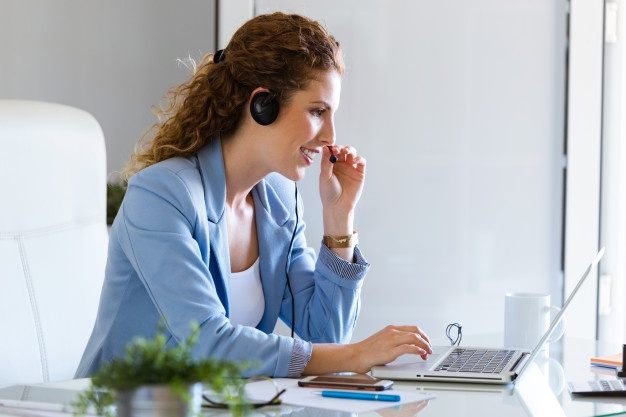 This would be a great start for anyone wanting to get into a customer service role but does not have the relevant qualifications and appropriate skills nor experience then this course is designed to work with you to help develop the skill needed to fulfil a customer service role. It is designed for students aged 16-24 and have little to no experience.
What is a Customer Services Reprehensive (CSR)?
Customer service representatives help customers with complaints and questions, give customers information about products and services, take orders, and process returns. By helping customers understand the product and answering questions about their reservations, they are sometimes seen as having a role in sales.
Jobs include as following:
Call Centre Agent- As a call centre agent, you can work at a call centre from home or work inside a call centre. Regardless of the location, you'll anwser phone or email inquiries from customers. Depending on the job, you'll place orders, respond to and handle customer issues, or make appointments.
Concierge- If you are interested in assisting customers and are knowledgeable about hotels, restaurants, transportation, and any other information that can facilitate and enhance the customer experience, you may do well as a concierge. Many hotels have concierges on staff that book reservations, suggest activities, and arrange transportation for guests.
Client Relations Associate- Client relations staff builds and maintain relationships with their organization's most important customers This is a hands-on position working with assigned clients to make sure that they are satisfied with the company's services and products. Your job is to ensure client satisfaction and to work with team members, other company departments, and external vendors to make sure customer needs are met.
Client Services Coordinator- Client services coordinators are responsible for ensuring tasks are completed. They may handle order processing, setting up and coordinating services, tracking deliveries and installations, and resolving customer issues.
Front Desk Associate or Receptionist- If you have strong interpersonal skills and the ability to handle in-person and phone communications, a front desk position is a good job option. In a corporate setting, you will likely work in a position at a hotel, resort, or other hospitality facility.
Member Services Specialist- Member services specialists provide a high level of customer care to members. For example, you may be serving an elite credit card holder or a client of a bank or an insurance company. This job entails answering questions, providing services, and explaining benefits to members. Work hours and salary vary, depending on your employer.
Patient Care Coordinator- Patient care coordinators work for doctors' offices, hospitals, medical centres, rehabilitaion centres, health care agencies, and insurance companies. They schedule appointments and arrange services and procedures.
Social Media Customer Care Associate- A social media customer care associate handles social media platforms including Facebook, Intagram, Twitter and many more from dissatified customers. This role involves monitoring an organization's social media accounts, responding to inquiries, resolving issues, and escalating problems to a manager when necessary.
Skills in Customer Service
Persuasive speaking skills- is a specific type of speech in which the speaker has a goal of convincing the audience to accept his or her point of view
Empathy- is the ability to understand the feelings of others. We cannot always give a solution to a customer's problem but we can make them feel that we are empathising with them. Acknowledge the customer's feelings and listen to them and once finished, reiterate to them what they have told you so that they know you were listening. The customer is the most important person on the call so make sure you make them feel that way.
Adaptability- Adaptability as a skill refers to the ablitiy of a person to change his actions, course or approach to doing things in order to suit a new situation.
Ability to use positive language- Whether you communicate verbally, or in written form, the language you use affects how the message is percived. Using positive language can help to reduce conflict, improve communication, increase optimism in others and can portray the speaker/writer as credible and respectable.
Clear communication skills- Communication occurs when one person speaks or writes a message, or uses non-verbal body language to convey a message which is received by one or more people.
Self control- is key to good customer service. When customers are irate and aggressive you on the phone or in person, you first thought is to be aggressive back. This is where your self-control comes in.
Listening- Listening is a key factor in a customer service rold. If you are not concentrating and listening to what the customer is saying, things can be misheard and then misunderstood, which can lead to many problems further down the road. Be patient and if you are finding it hard to understand them, ask them to repeat themselves as there is nothing worse than a customer who thinks that you are not listening to them.
There are many qualifications gained from working and learning to become a customer care or service rep. This course is aimed at learners who are new to the customer servies sector and wish to improve their knowledge of this area resulting in the achievement of a nationally recognised qualification. The qualification provides learners with the knowledge and understanding in customer service for learner who deal, or intend to deal, with customers on a daily basis as part of their job role and is applicable to a variety of work environments.
Level 1, 2 and 3 diploma in work related studies for customer service sector.
Level 1, 2 and 3 National Vocational Qualification (NVQ) award in contract operations.
Level 1, 2 and 3 certidicate in customer service.
Level 1, 2 and 3 diploma in customer service skills.
Know how to deliver good customer service, know different communication methods, know how to provide good sutomer service in line with organistional procedures and know how to effectively deal with customer queries, problems and complaints.
These include dealing with making conversation, building rapport and complaint resolution.
These include dealing with customer requests, communicatoin skills and make telephone calls to customers.
The course will take between 45hrs-150hrs depending on your chosen course and your area you can find out more from the gov.uk for more info.
While work experience, which may include training in a simulated work environment or social action, can help students develop softer skills, providers are expected to offer, wherever possible, a work placement with an external employer. Work placements are often an integral part of student's qualification hours and will be undertaken in a workplace that is relevant to their course, to build on their employability skills in a practical setting. Work placements can also form a part of the student's non-qualification hours and can be related to the course they are studying towards and/or help them gain experience to progress onto their chosen career path.
You need to apply the online application form
Take a test or tests as part of your application
Send something in written work
If you are shortlisted, you will be invited to interview
Shortlisted applicants will get the feedback
Enjoy your learning